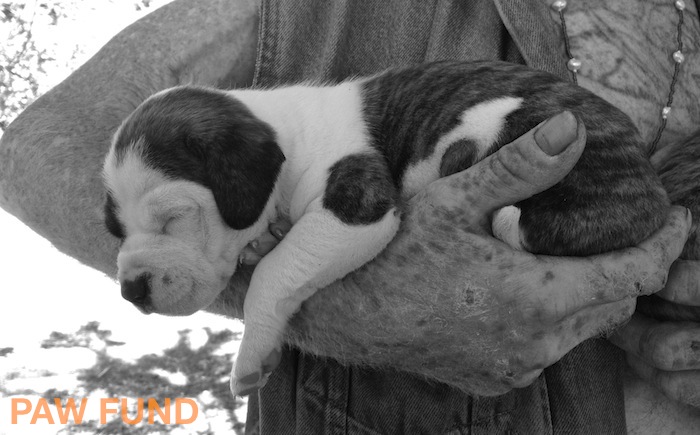 MARCH 25TH 2020
COVID 19 UPDATE – WE ARE CANCELLING OUR MARCH 29 CLINIC DUE TO THE RESTRICTIONS ON PUBLIC EVENTS AND OUR SPAY AND NEUTER PROGRAM IS SEVERELY AFFECTED BECAUSE VETERINARIANS ARE NOT CARRYING OUT 'ELECTIVE' SURGERIES WHICH IS THE CASE FOR MOST SPAY AND NEUTER.
PLEASE CHECK OUR FACEBOOK PAGE FOR MORE FREQUENT UPDATES. THANK YOU FOR YOUR UNDERSTANDING, STAY SAFE, AND WE WILL BE BACK WITH OUR FULL PROGRAM AS SOON AS WE ARE ABLE.
The idea behind Paw Fund is simple. We help people help their pets. And when everyone can provide basic care to their pets, everyone's pets benefit. When pets are vaccinated against the diseases that most commonly affect them, when pets are spayed or neutered, when pets are treated for everyday minor medical issues like fleas or worms, the entire community is better off.
Our programs work by partnering with veterinarians, public and private agencies, and most importantly with pet owners who may not be able access or afford regular vet care. By keeping pets healthy, we help to keep pets in their homes and out of animal shelters. The more we help pet owners take care of their companion animals, the fewer pets end up in our overcrowded city and county shelters.
Our animal companions are family. And we know that sometimes, it's hard to afford the basic costs of caring for a pet. That's where Paw Fund can help.
Free & 'Pay What You Can' Pet Health Care
Paw Fund runs free pet vaccine clinics every month. We also offer free and low-cost pet health services like spaying and neutering. And we can sometimes provide pet supplies and information (in both English and Spanish) to help you care for your dog or cat.
Follow us on Facebook to stay updated on Paw Fund events.
Pet Vaccine Clinic Info
Our clinic is open to anyone who lives in either Contra Costa or Alameda counties. It doesn't matter if you're homeless or undocumented. Everyone is welcome — just bring yourself and your pet/s.
Please bring dogs on leash, or carry them if they're small enough. Bring cats inside a carrier. If your pet is sick and you need advice, message us on Facebook. Unfortunately, we can't allow sick pets at the clinic because it puts other pets at risk.
Free Pet Vaccine Clinic Dates for 2020
Our free pet vaccine clinics are always on Sundays, every four weeks. The clinic starts at 10 AM but you should arrive earlier to sign in. Sign up ends when we reach 75 people.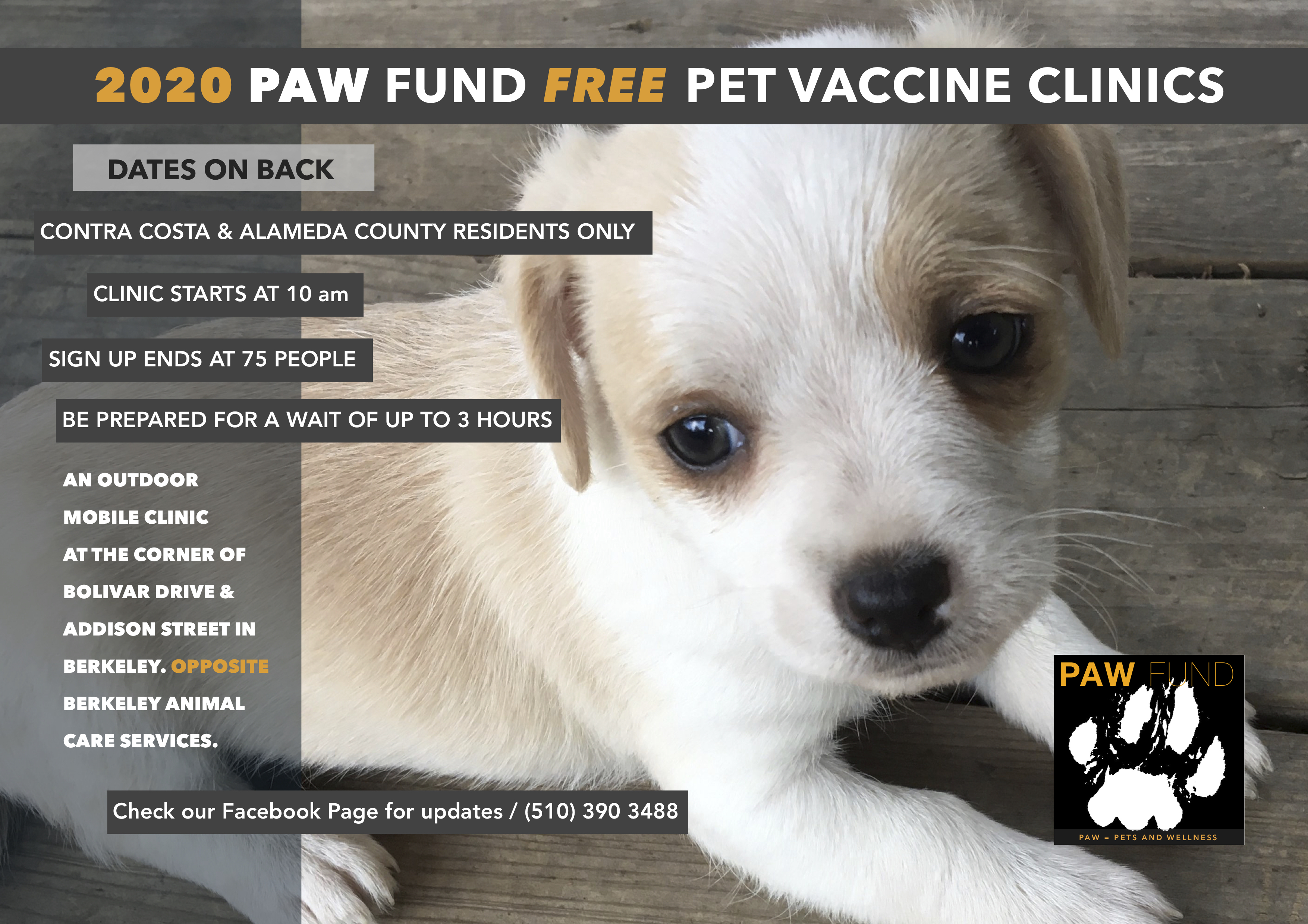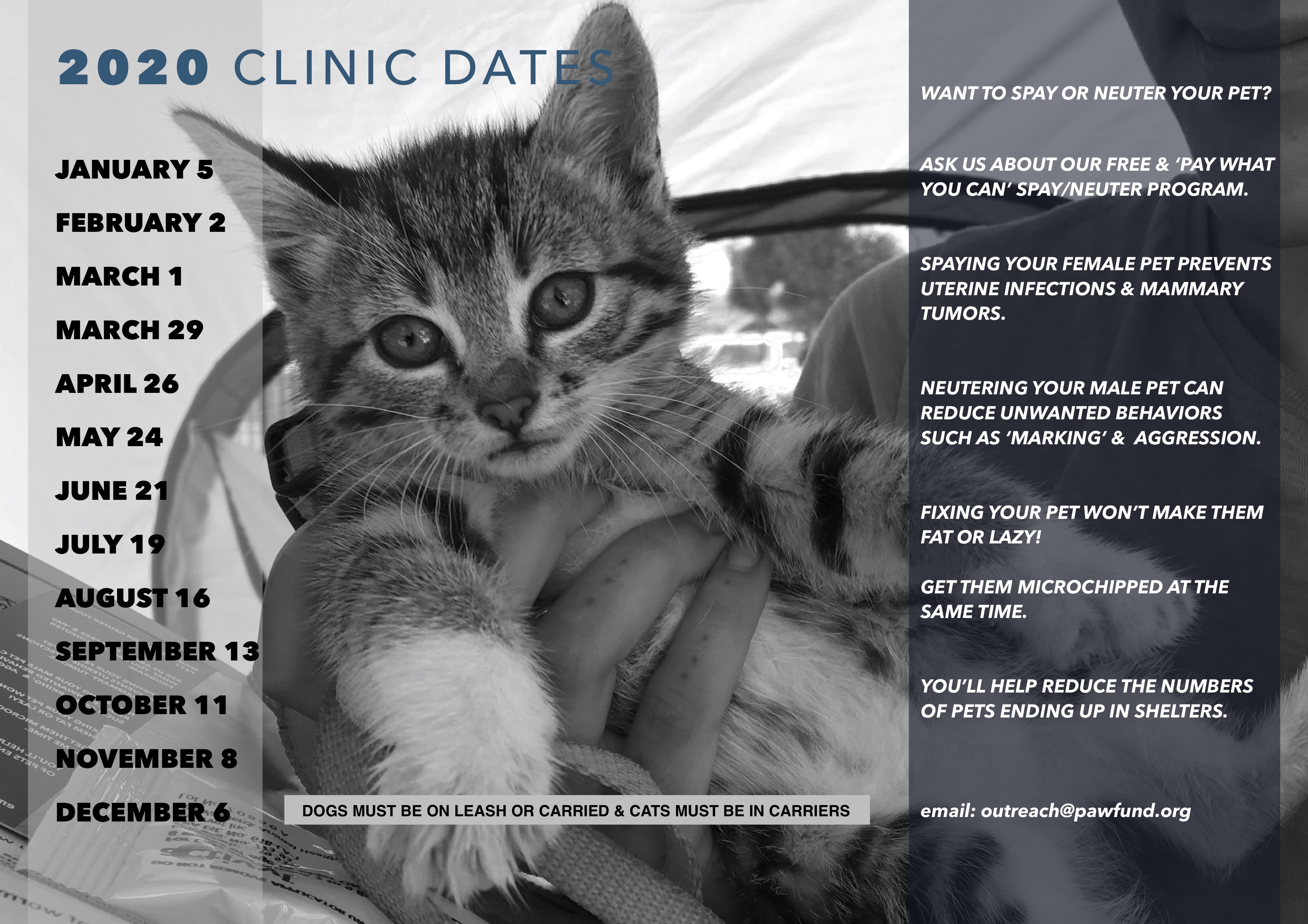 Location for our once a month clinic
PLEASE NOTE! We are not a bricks and mortar facility. We have no clinic or office building or shelter. Our clinics are all mobile clinics in parking lots, or in neighborhoods. This map is to help you get to our once a month mobile clinic which is outdoors in the parking lot on the corner of Addison Street and Bolivar Drive in Berkeley, just across from Berkeley Animal Care Services. We are not a part of the shelter!