PAW Fund is located in Contra Costa and Alameda counties on the east side of the San Francisco Bay, where the gap between those who have and those who do not, is more visible than almost anywhere else. But whether you live in a castle on a hill or in a tent by a freeway offramp, your companion animals mean the world to you.
The idea behind Paw Fund is simple. We help people help their pets. And when everyone can provide basic care to their companion animals, everyone's pets benefit.
When pets are vaccinated against the diseases and viruses that most commonly affect them, the entire community of pets is better off. When pets are spayed or neutered, there are fewer medical issues affecting dogs and cats as they get older, and fewer pets end up in our local animal shelters. When pets are treated for everyday minor medical issues like fleas or worms, it prevents those minor issues becoming major problems.
And every time we provide care for companion animals, their human guardians benefit because we are preventing illness, unwanted litters and the high cost of veterinary care.
PLEASE READ THIS: We provide services to two counties in California only – Alameda and Contra Costa. Every 4 weeks on a Sunday, in Berkeley, CA, we hold an outdoor vaccine clinic for cats and dogs, and can only see a limited number of pets. Our clinics start at 10am. See below for clinic details!
Contact our team at admin@pawfund.org for any other PAW Fund program information or to schedule spay or neuter.
This may seem obvious – please do not come to our clinics if you can afford the low cost options out there. There are pet owners who really are struggling. Don't take a space at a free clinic from someone else! We strongly recommend Pet Vet Pet Food, a great independent business which has a low cost vet and vaccine option four days a week (2 days at each location they have in Oakland and El Cerrito). Please check them out.
Our programs work by partnering with veterinarians, public and private agencies, and most importantly with pet owners who may not be able access or afford regular vet care. By keeping pets healthy, we help to keep pets in their homes. The more we help pet owners take care of their companion animals, the fewer pets end up in our overcrowded city and county shelters.
Our animal companions are family. And we know that, sometimes, it's hard to afford the basic costs of caring for a pet. That's where Paw Fund can help.
Free & 'Pay What You Can' Pet Health Care
Paw Fund runs free pet vaccine clinics every month. We also offer free and low-cost pet health services like spaying and neutering. And we can sometimes provide pet supplies and information (in both English and Spanish) to help you care for your dog or cat.
Follow us on Facebook to stay updated on Paw Fund events.
Pet Vaccine Clinic Info
Our clinic is open to anyone who lives in either Contra Costa or Alameda counties. It doesn't matter if you're homeless or undocumented. Everyone is welcome, and we don't ask you to prove you need our help, but our clinics are intended for low income, no income or homeless pet owners, so if you can afford to go to a low cost option like Pet Vet, please do. Space is limited. Many people get turned away, so if you get a space, someone else does not. Please consider whether you might be taking space from someone less able to afford an alternative.
We prioritize pets who are young and under-vaccinated. Adult pets with prior vaccines are less likely to be seen. We can schedule a small number of pets to see the vet for specific medical concerns, but this number is very limited.
Please wear a mask if asked to do so by our team and keep social distance from other clinic visitors. Drive in on Virginia Street and park on Second St – there's lots of street parking – and walk to our intake area. Our intake team will check you in and give you a number and get you to an assigned spot. Our tech team will make sure your pets are safely provided services while you wait in the space assigned to you. Our vet will come to you to discuss any concerns with you.
Dogs need to have a harness or collar and be on leash, and cats must be in a carrier.
Do not come to the clinic if you are sick, are experiencing COVID like symptoms, have tested positive for COVID within the previous 14 days, or had contact with an infected person. And please do not bring sick animals to the clinic without consulting with us first. We need to be aware of everyone's safety – human and animal. THANK YOU.
Free Pet Vaccine Clinic Details & Dates for 2023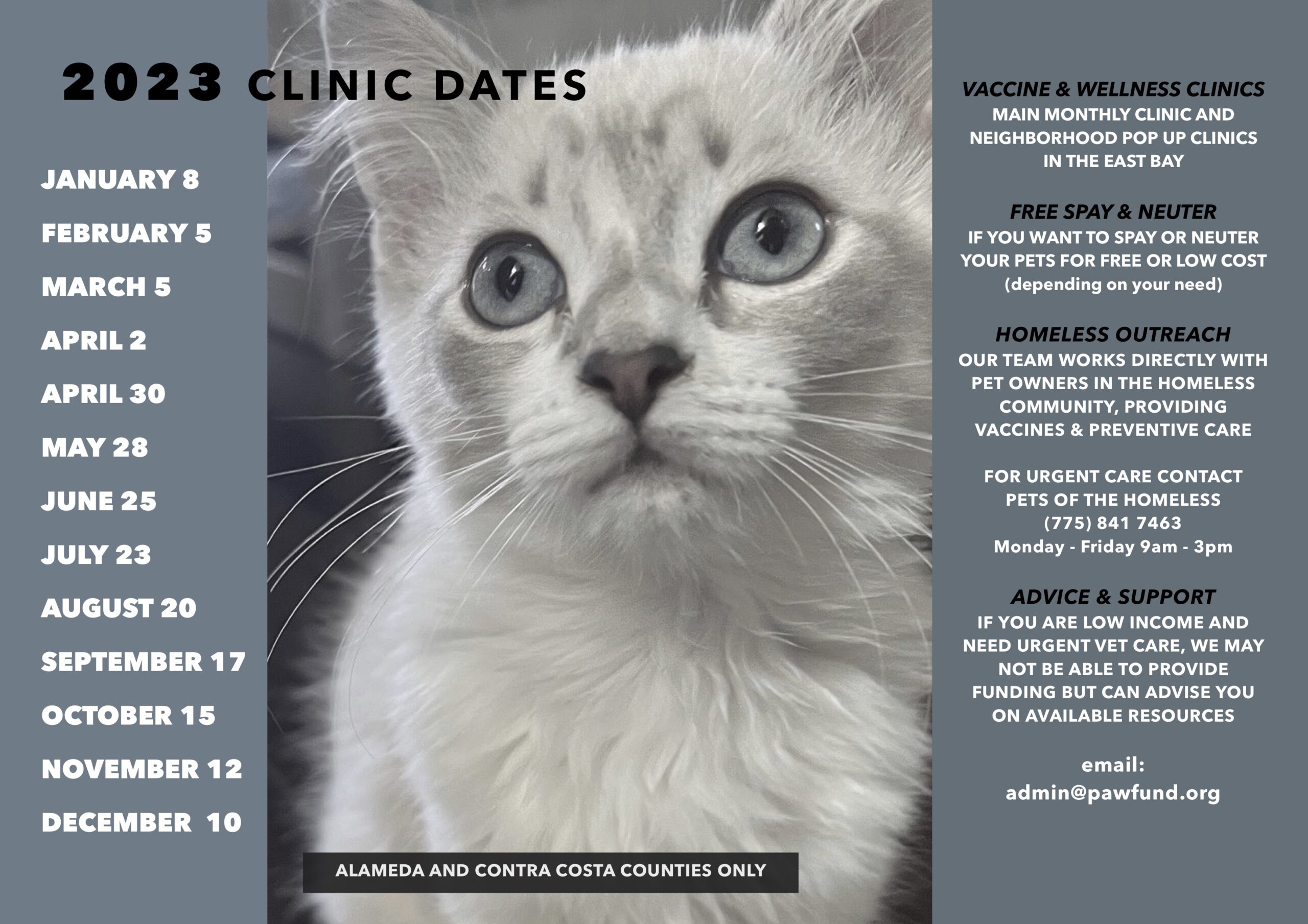 Location for our once a month clinic
PLEASE NOTE! We are not a bricks and mortar facility. We have no clinic or office building or shelter. Our clinics are all mobile clinics in parking lots, or in neighborhoods. The clinics above are on SECOND STREET in BERKELEY, BETWEEN HEARST & VIRGINIA. Enter on Virginia Street, park on Second Street, and by 8.30 am our crew will be setting up and signing people in.